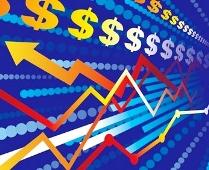 A Planning Commission member said on Thursday the economic growth rate for 2008-09 could be revised upwards to 6.9 per cent from 6.7 per cent estimated by the government earlier.
"The economy growth in last fiscal will be revised upwards at 6.9 per cent from earlier estimates of 6.7 per cent," commission member Saumitra Chaudhari said while addressing a conference 'Indian Forecasting Forum'.
The growth projection is likely to be revised upwards mainly on account of better than estimated performance of the manufacturing sector.
The revised estimates of national income released by the Central Statistical Organisation in May pegged the gross domestic product growth rate for 2008-09 at 6.7 per cent, down from 9 per cent registered in the three previous fiscals.
As regards the current fiscal, Chaudhari said, "If the monsoon had been normal we would have got 7 per cent plus GDP growth this year (fiscal). Monsoon has essentially taken off half a percentage point of growth."
Referring to the Prime Minister's Economic Advisory Council's growth projection of 6.5 per cent in the current fiscal, he said, "It is neither pessimistic nor optimistic."
PMEAC in its report on the economy, which was submitted to Prime Minister Manmohan Singh, projected a growth rate of 6.5 per cent, which could even go up to 6.75 per cent.
Chaudhari added that expenditure on the United Progressive Alliance government's flagship schemes like the Bharat Nirman and the National Rural Employment Guarantee, would not be curtailed to contain the fiscal deficit during the next financial year.
He also spoke in favour of convergence of some social sector schemes to streamline expenditure efficiency and ensure that benefits reach the needy.
© Copyright 2021 PTI. All rights reserved. Republication or redistribution of PTI content, including by framing or similar means, is expressly prohibited without the prior written consent.