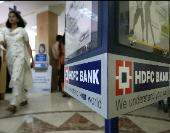 The Reserve Bank of India is likely to wait for a further rise in inflation before it raises its benchmark lending and borrowing rates around December or January, HDFC Bank said on Thursday.
The private sector lender, however, expects RBI to hold key rates in its monetary policy review due next week.
"Our bet is that the RBI will wait until December-January period when inflation actually spikes up before changing policy rates. However, we continue to believe that the policy will maintain status quo (on Oct 27)," HDFC Bank chief economist Abheek Barua said in a note.
He said it was unlikely for the RBI to embark on an 'aggressive rate hike cycle', even if it were to move rates upward.
"If the central bank is indeed looking for reasons to delay its exit from its super-accommodative monetary stance, the recent inflation prints certainly gives it one," he said.
India's wholesale price index inflation rose to 1.21 per cent for the week ended October 10 from 0.92 per cent in the previous week. HDFC Bank expects WPI inflation to moderate in the second half of FY10.
Barua said a robust industrial production data for August at 10.4 per cent has raised the probability of a rate hike in the October 27 policy.
RBI may, however, need more confirmation that India has climbed out of the bottom of the industrial cycle before it takes a decision on rates, he added.
The central bank may also carry out some 'indirect monetary tightening' over the next two months to drain out excess liquidity from the system, he said.
"Some indirect monetary tightening is likely over the next couple of months. For one, the RBI could reduce the quantum of OMO purchases form the market. Second, the RBI is unlikely to intervene aggressively in the forex markets as intervention would add to local liquidity," Barua said.
He said the apex bank would also needs to be vigilant as demand may drive up pricing pressures before 2011.