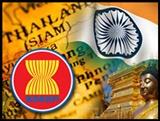 India will make a strong pitch for new initiatives with ASEAN countries to collectively respond to challenges thrown up by the global economic meltdown and climate change during the two day India-ASEAN and East Asia Summits beginning in Thailand tomorrow.
In a statement before his departure for Bangkok, Prime Minister Manmohan Singh on Friday said he will discuss with ASEAN leaders new initiatives to accelerate the process of engagement in areas such as greater economic integration.
The other areas include agriculture, human resource development, education, science and technology and information and communications technology, he said.
The Thai beach resort of Hua Hin, known for its quiet coastal villages, will host 16 Asia Pacific leaders to discuss ways for increased economic and strategic engagement among themselves.
Leaders from the 10-member Association of Southeast Asian Nations (ASEAN), India, China, Japan, South Korea, New Zealand and Australia would be attending the twin meets which were twice postponed since December 2008 in the wake of anti-government protests in Thailand.
Singh said he would be having bilateral meeting with his Chinese counterpart Wen Jiabao. The talks will take place against the backdrop of war of words in recent weeks on Arunachal Pradesh.
While China regards Arunachal Pradesh as a disputed territory, India has maintained that the North Eastern state is an integral part of the country. New Delhi lodged a strong protest after China raised objections to Singh's visit to the state in the run up to the assembly polls there.
Singh will also be having separate meetings with his counterparts from Japan, Singapore, Thailand and Vietnam besides meeting Indonesian President Susilo Bambang Yudhoyono.
India's enhanced engagement with the ASEAN was at the heart of its 'Look East' Policy, he said adding the conclusion of the India-ASEAN Trade-in-Goods Agreement in August this year was a major first step in its objective of creating an India-ASEAN Regional Trade and Investment Area.
Noting that India-ASEAN trade has grown at a healthy rate and stood at about 48 billion dollars last year, Singh said the India-ASEAN Summit was an occasion to review the progress in India's relations with ASEAN countries.
He said he would inform ASEAN leaders about several initiatives that India has taken to qualitatively enhance its partnership in diverse areas of its cooperation.
The Prime Minister said the East Asia Summit on October 25 would provide an opportunity to discuss regional and international issues of common interest and future direction for community building and cooperation.
"Asia's response to the global economic slowdown, food security, energy security and climate change will be important issues of discussion" besides reviewing cooperation in energy, education, finance, avian influenza and national disaster mitigation, he said. Singh hoped that ASEAN and other countries of the East Asia Summit process would endorse the proposal for the establishment of the Nalanda University in Bihar as an international institution of excellence in education with a continental focus.
Nalanda University, which existed until 1197 AD, attracted students and scholars from Korea, Japan, China, Tibet, Indonesia, Persia and Turkey, besides being a pedestal of higher education in India.
The Prime Minister said India's participation in the India-ASEAN and the East Asia Summits was a vital element of its vision of an Asia economic community that is based on an open and inclusive regional architecture.