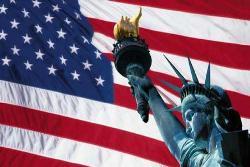 Small business owners in the US are planning to hire within the next 12 months, even as the nation's unemployment rate has hit a 26-year high in September this year.
According to the Intuit Payroll survey, nearly 44 per cent of small business owners, are planning to hire new employees within the next 12 months.
"There are struggles ahead, nobody is uncorking the champagne bottle quite yet, but we are starting to see small signs of optimism," Intuit's Employee Management Solutions Division senior vice president Nora Denzel said.
Unemployment rate in US soared to a 26-year high of 9.8 per cent in September as 263,000 jobs were lost last month.
Though small business are ready to hire after struggling out of the recessionary environment, but they still find it difficult to afford employee benefit schemes.
"On one hand, we as a society assume that health and retirement benefits are part of every employee's compensation package. And yet even as these small businesses gear up to hire, according to our results, small businesses are leery about what those benefits will cost," Denzel added.
Nearly 90 per cent of respondents said health insurance benefits are important for attracting and retaining good employees. Yet 58 per cent do not offer healthcare insurance, with nearly 50 per cent stating that they cannot afford it. Employer-provided retirement plans are even scarce.
As per the survey, nearly 60 per cent of small business owners expect their business to grow in the next year.
"Newer businesses are the most bullish," the survey said as 80 per cent of companies found less than three years ago expect to grow over the next year, compared to roughly half that have been in operation for 10 years or more.
When it comes to hiring, small business owners are looking for candidates with a broader skill set.
Fifty per cent of the small business respondents said they were looking for a 'people person' or 'jack of all trades,' over a '"creative genius" (11 per cent) or "mathematical wizard" (4 per cent).
Intuit Payroll Survey was conducted by Global Strategy Group from September 21-30, with 1,004 Intuit Payroll customers who participated in the online survey.