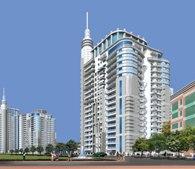 Buoyed by the recovery in the real estate sector, realty giant DLF on Thursday said it will hire people to sustain growth of the company.
The country's largest realty company had trimmed staff count last fiscal due to the slowdown. "We are a growing company, we will be hiring people. Nothing very unusual about it," DLF chairman K P Singh said on the sidelines of Assocham function.
He, however, declined to give details such as the number of people DLF planned to add and the timeline for it.
"Hiring is a process, which always keeps on happening. Some people go and some people come," he added.
In the 2008-09 fiscal, DLF's headcount was down by 818 people to 2,882 as on March 31, 2009, from 3,700 exactly a year ago, a drop of 22.1 per cent.
Singh, last November, courted controversy when he admitted to laying off of staff only to make a U-turn later. Asked if the recovery in the real estate sector has picked up speed, Singh sounded a cautious note.
"This is gradual and is happening (but) it is too early to say anything. The recent Reserve Bank policies will have certain effect on this issue but the fact is, this real estate demand growth will commensurate with GDP growth," he said.