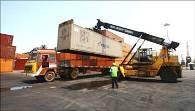 India's exports declined by 13.8 per cent in September, for 12 months in a row, but the pace of contraction has slowed down.
The exports in September stood at $13.6 billion, against $15.8 billion in the same month last year.
During the first half of the current fiscal, overseas shipments contracted by 28.5 per cent to $77.9 billion, against $108.9 billion in the same period last year, Commerce Secretary Rahul Khullar said.
The pace of decline of the country's exports have, however, slowed since May when it tanked 39.2 per cent and in the subsequent month it contracted by 31.9 per cent. In July the overseas shipment fell by 28.4 per cent and in August it dipped 19.5 per cent.