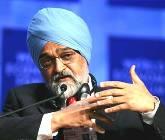 Calling for a bold and clear disinvestment programme to meet the resource gap in the next two fiscals, the Planning Commission said on Tuesday growth in the second and third quarter may not be as good as the first quarter.
"Second quarter will be worse (than 6.1 per cent growth in Q1) and may be Q3 also," Planning Commission Deputy Chairman Montek Singh Ahluwalia said on Tuesday after the full plan panel meeting.
However, he said the economic growth will rebound in the fourth quarter to enable the economy to clock 6.3 per cent for the entire fiscal.
Asked about the expected Rs 1,60,000 crore (rs 1,600 billion) resource gap for the 11th five-year plan, Ahluwaia said, 'bold and clear disinvestment programme would have to meet some of these gaps in 2010-11 and 2011-12.'
On inflation he said the current negative rate may get into positive territory by September or October this year.
Asked about the Planning Commission's note on inflation and whether it will rise above the comfort zone of 4-5 per cent by the end of this fiscal, Ahluwalia said, "If drought is managed well and there is good Rabi crop as well as fiscal consolidation, inflation may well be contained within the comfort zone.
Image: Montek Singh Ahluwalia