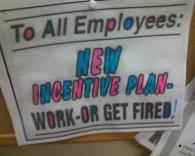 Amid tough economic conditions, layoffs, salary cuts and decrease in benefits, most of the Americans seem happy at workplace, just not as happy as they use to be, a latest survey has found.
According to the survey conducted among 1,000 employees by job site SnagAJob.com, more than half (58 per cent) of Americans are happy at work.
"Even as we continue to face layoffs and other corporate cutbacks, the majority of the American workforce remains upbeat about their jobs, "But on the whole, we are not as happy. Ongoing anxiety about the economy may well be chipping away at the happiness level," Shawn Boyer, chief executive officer, SnagAJob.com said.
The report found that only one in four (24 per cent) said their happiness was based on the fact they were employed. A significantly higher percentage (41 per cent) said they were happy that their jobs give them personal satisfaction or suit their lifestyle.
Most of the respondents (56 per cent) consider that economic climate has stabilised but is yet to improve, but more than a third of workers (36 per cent) fear that the worst is yet to come. Only 4 per cent think the economy has turned the corner.
"It is clear that most Americans are cautiously optimistic about their jobs and the economy itself," said Boyer adding we believe the economy is moving in the right direction based on the feedback we are getting from hiring managers across the country.
On the other hand, not everyone in the country is happy with their job perspectives. Most of those surveyed (52 per cent) report "a decline in job security, saying that their job is less secure than it was a year ago," and of those, only half expressed happiness with their jobs.
SnagAJob.com index revealed that more than half of women (64 per cent) are among the happiest in the workplace. Interestingly, income levels are not necessarily linked with overall job satisfaction. 

Three in five (59 per cent) earning less than $25,000 annually say they are happy with their job, while (62 per cent) workers who are earning at least $50,000 are also happy with their job.