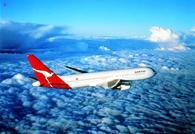 Australian airline Qantas has hailed the troubled outsourcing partner Mahindra Satyam stating that it maintained its level of service even during the tumultuous period.
In a report published in The Australian, Qantas corporate services and technology executive manager David Hall said despite the fraud saga, Satyam continues to service the Flying Kangaroo. He described Satyam's performance throughout the tumultuous period as "impressive".
"We've been very impressed with what they've done...maintaining that level of support through that period," he said.
"Organisationally, they've had some difficult times but we have not seen a degradation of service at all, either locally or offshore. They have maintained service levels and I think that's a credit to the organisation."
Satyam has two outsourcing contracts with Qantas for custom application development and maintenance.
The first is a five-year contract signed three years back worth $80 million while the other deal, valued at $55 million span seven years, ending in November 2013.
Qantas also has another India-based IT services partner in Tata Consultancy Services (TCS).