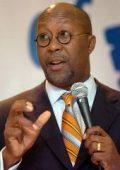 US trade representative would visit India for the second time in about a month's time to hold a series of discussion on bilateral issues with his counterpart Commerce Minister Anand Sharma.
On his maiden visit to New Delhi to attend the two-day informal ministerial meet on Doha round, Kirk told reporters in a teleconference that he would be back to New Delhi in just over a month for 'continued talks' relative to the Trade Policy Forum.
"With the change in administration, the good relationships between the United States and India, we are very excited about strengthening our US-India Trade Policy Forum," Kirk said.
"We had very productive discussions in the first round relative to our bilateral investment treaty negotiations that were held last month in Delhi. And, at least at this point, it looks as if I will be back in India in just over a month for continued talks relative to the Trade Policy Forum," he said.
Noting that he has an excellent relationship with Sharma, Kirk said: "I can't believe that we couldn't have gotten off to any better start than we had. We had a wonderful introduction to one another during our time together in Bali.
"We cemented that good beginning with a very productive meeting, both in Washington and in Paris."
"I have not been given any assurances from minister Sharma nor have I sought any. I take him at his word, as I do all of the participants, that all of us are faithfully committed to working as diligently as we can, to see if we can't put ourselves in a position to allow Doha to come to a successful conclusion," he said.
While playing golf with Obama over the weekend, Kirk made the US President aware that he was going to be travelling to India, that they are moving forward with his and the directive of the other leaders at the recent G-8 summit in Italy to engage in the type of dialogues that would try to allow them to move Doha forward next year.
Image: Ron Kirk