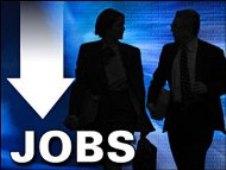 Indicating that the US labour market is slowly improving, US private companies slashed 2,98,000 jobs last month, the lowest since September 2008.
Non-farm private employment decreased 2,98,000 from July to August 2009, according to the ADP National Employment Report released on Wednesday.
The report noted that the estimated change of employment from June to July was revised by 11,000 from a decline of 3,71,000 to a decline of 3,60,000.
However, more jobs are likely to go in the coming months before the economy stabilises. "August's employment decline was the smallest since September of 2008. Employment losses are clearly diminishing.
"Despite recent indications that overall economic activity is stabilising, employment, which usually trails overall economic activity, is still likely to decline for at least several more months, albeit at a diminishing rate," the report said.
Grappling with the worst financial turmoil in nearly 80 years, American firms have resorted to massive layoffs as part of their efforts to cut down on costs.
© Copyright 2021 PTI. All rights reserved. Republication or redistribution of PTI content, including by framing or similar means, is expressly prohibited without the prior written consent.