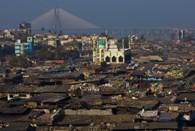 India's financial capital which houses the maximum number of slum dwellers in the country has one in two persons residing in a slum, as per a Human Development Report compiled by Brihanmumbai Municipal Corporation (BMC) and the United Nations Development Programme (UNDP).
"Worldwide, one in three persons lives in a slum. But the figures are much higher for Mumbai where 54.1 per cent of the population are slum dwellers as per 2001 census. This means that 'one in two persons in Mumbai city is residing in a slum'," the report said.
"They occupy just six per cent of all land in Mumbai explaining the horrific levels of congestion," it added.
Delhi has 18.9 per cent, Kolkata 11.72 per cent and Chennai 25.60 per cent in slums. Some 29 per cent, between a fourth and third of Maharashtra's urban population resides in Mumbai's slums.
The first cut-off date was 1976, meaning the slums settled prior to 1975 were recognised and notified. The present cut-off date for notification of slums is 1995 but the government recently declared that pre-2000 slums would be regularised.
In 2006-07, the city had a per capita income of Rs 65,361, twice than the country's average per capita income of Rs 29,382.
Despite having the highest per capita income in the country, the income of nearly 10 per cent population of the city is not above Rs 591.75 per month, which means Rs 20 a day.
These families do not have amenities like televisison, fridge, fan, toilets in their house, source of water supply, do not own any vehicle or farm and children studying in government or private schools.
Quoting a report on Urban Poverty Reduction Strategy by the Regional Centre for Urban and Environmental Studies, All India Institute of Local Self-Government, UNDP said, in 1998 poverty was much low at only 8.5 per cent.
A baseline survey of 16,000 slum households by the MMRDA for its Mumbai Urban Transport Project says, with an average monthly household income of Rs 2,978, and 40 per cent of them were below the poverty line.
The UNDP report says, the poor in Mumbai are residing across three distinct habitat categories. The first of these is the chawls - either single or multi-storeyed, single-room tenements and pavement dwellers.
The poor who live there include migrants, construction workers, street vendors, domestic help, beggars, waste pickers, sex workers, taxi and auto rickshaw drivers and workers.
As per the report, the slum and hutment dwellers of unauthorised structures form an integral part of this vibrant metropolis.
Most of the slum dwellers participate in the informal economy which by all accounts would appear to be growing, the report said. "No country in the industrial age has ever achieved significant economic growth without urbanisation. If migration and urbanization are two sides of a coin, slums are the natural outcomes of urbanisation. Not all poor people live in slums, and not all people who live in areas defined as slums are poor," the report said.
Urban poverty is not seen as only income poverty but absence of access to basic civic services as well and the quality of their habitats. However, for the sake of simplicity, the urban poor can be termed the slum dwellers, it said.
Poor qualities of shelter, extreme overcrowding, poor access to public services, including basic civic facilities as well as insecurity of land tenure in most cases are the other markers of poverty, the report said, adding, "there has been no change in the condition of the slum dwellers even though the non-slum areas in the city have improved their lifestyles."
"Therefore, a slum-dweller deserves not patchy, incidental, but focused attention, probably positive treatment or positive discrimination - to bring them into the mainstream of the city to which they contribute," the report said.