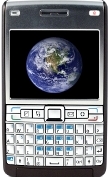 Nokia, Samsung and Motorola are launching new handsets and software applications to facilitate networking on the move.
Mobile devices are now enabling people to network on the move. Users are logging on to popular social networking sites like Facebook, Orkut and Twitter using the general packet radio service technology on their mobile phones to stay in touch with their friends and acquaintances.
This emerging trend has made handset manufacturers in India sit up and take notice. Mobile companies like Nokia, Samsung and Motorola are rushing to launch new handsets and software applications to catch on the social networking bug.
Some of them are looking at even increasing the screen size to accommodate what they have termed 'infotainment on the move'.
For instance, Nokia is leveraging Facebook's functionality to customise and deliver its online brand experience. Nokia has created specific forums and community on Facebook to engage users, specific to their interests. For example, on Nokia NSeries community, there are almost 150,000 fans, who share their feedback on products and services and also become Nokia's natural brand ambassadors to spread the buzz about the brand.
"Nokia is also using Twitter to engage the community on our new product, 6700. The concept is all around sharing online, and we have leveraged Priyanka Chopra, our brand ambassador, to drive conversation and participation on our sharing campaign with the larger community," said Viral Oza, head -- activation, media and online marketing of Nokia.
"Nokia believes that our vision of the fourth screen, where mobile phone is becoming the fourth screen -- after cinema, TV and PC -- will enable people to enjoy entertainment and access information; to create, store and share experiences with others," added Oza.
Nokia users can either access the pre-embedded social networking widget or download it from its online Ovi store. The online store has approximately 20,000 items across categories ranging from applications, games, videos, podcasts, productivity tools and web to location-based services.

The store is currently accessible from over 75 Nokia devices in five languages. Nokia's top five downloading countries include India, Italy, Spain, the UK and the US, with developers from 60 countries uploading content to Ovi Store.
The reason is not hard to fathom. The number of people in India accessing the web on their cellphones, according to industry estimates, increased by a whopping 7 million this year
Motorola, on its part, is finally ready to unveil its first Google Android handsets. It is expected to be tightly integrated with many social networking platforms and offer push updates. For example, opening a contact on your phone would instantly display real-time updates from Facebook, Twitter, and Flickr. Motorola may also launch its own app store.
The company, which has not released a bestseller since its Razr handset five years ago, may see its Android line account for half of handset revenue next year.
Sunil Dutt, country head for Samsung Mobiles, said, "We are moving from being a device-focused company to a devices-enabled services company. So our focus, going forward, would be more on push email services and social networking. We have social networking widgets on our handsets that are priced at around Rs 7,000 and above. We are looking at launching more high-end devices with larger screens as the focus is clearly towards infotainment experience."
Products like Samsung OmniaPro B7320, priced at around Rs 16,500, support social networking applications such as Facebook, MSN instant messaging, Google Talk and Yahoo Chat, which are all downloadable. Additional features include a 3-megapixel camera, FM radio with RDS and Wi-Fi.
Samsung has also announced the launch of the S3650 Corby, an affordable touchscreen handset designed for teen mobile users. The Corby has a contoured design and comes in yellow, white, orange, and pink with additional interchangeable and fashionable back covers.
The device is built on Samsung's finger-friendly Touchwiz user interface. Users can download new widgets for the user interface through Samsung's online store with the phone's GSM/EDGE data connectivity. Through Samsung's Social Networking Service, users can update their status across their favourite social networks like Facebook, Twitter, and MySpace.
Users can also upload content, like photos and videos created with the Corby's 2.0 megapixel camera, to YouTube, Flickr, Picasa, and Photobucket. Music collections can be saved onto microSD cards. The Corby offers Bluetooth headsets support, as well.