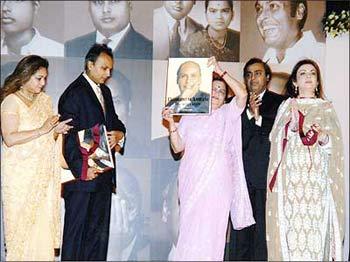 A friend of the Ambani family has described the dispute between the two brothers -- Mukesh and Anil -- as a 'Shakespearean tragedy', which had its roots in tensions between Anil's wife Tina and Mukesh's wife Nita.
He said after their father's death, Mukesh and Anil had fallen out over whose wife was next in line to the Reliance empire.
According to The Telegraph, the brothers still live in the family home 'Seawind' in Mumbai, and occasionally meet at family gatherings or conferences, but do not talk to each other.
"There's no conversation, let alone warmth. Sometimes they are forced to shake hands, but they do not look at each other," said the friend.
"It's a tragedy because they were a class act. One used to start a sentence and the other would finish it. How does that kind of chemistry go wrong?"
The row between Mukesh and Anil Ambani has reached such a level that the Indian government has pleaded with them to end their fight for the good the national economy.
Mukesh Ambani is India's richest man with a personal fortune of $19.5 billion, while his younger brother Anil is worth $10 billion and recently became one of the biggest players in Hollywood with a deal to bankroll Stephen Spielberg's new studio.
But despite their global success they are locked in a bitter dispute over a simple gas contract which has sent a wave of fear through the government right up to the Prime Minister's Office.
The brothers' feud dates back to the 2004 death of their father Dhirubhai Ambani.
Mukesh the eldest brother assumed control of their Reliance empire, with Anil as his second in command, but they soon fell out and Mukesh sought to oust his brother from the Reliance board.
Ministers were relieved when they agreed to divide the empire in 2005, but their feud has been reignited over an agreement for Mukesh's exploration company to sell gas to Anil's power company at a discounted rate.
The deal was vetoed last year by the Petroleum Minister Murli Deora who said neither company had the right to trade the government's gas at discounted rates.
In the resulting row, Anil accused the minister of being in league with his brother and carving up a deal which would double Mukesh's gas profits to $10 billion.
Last fortnight, he bought newspaper advertisements each day in 33 national newspapers making new allegations and inviting his shareholders to comment.
In one, he wrote: "Typically the government intervenes to bring down consumer prices or increase its own revenues. The Petroleum Ministry's actions unfortunately do neither. The lone beneficiary is Reliance Industries."
Commentators described the public accusations as 'unprecedented' in India. The capital Delhi is literally sweating over the outcome -- Anil's proposed 4,000 Megawatt gas power station, which will end power cuts in the city, is on hold until the gas dispute is settled.
Even Finance Minister Pranab Mukherjee has said it was a matter of 'national interest' for the brothers to resolve their dispute privately.
"I saw the boys growing up. Because they are sons of Dhirubhai it is very difficult for me to make a distinction between the two. They should try to sort out their issues," he said.
Since the empire was divided, Mukesh, who has a reputation for modesty, has surprised observers by building the world's most expensive home, a 27-story tower block in Mumbai which overlooks the Arabian Sea. It has car parking for 300, several helipads and an 'oxygen room'. He has also bought his wife a Boeing executive jet as a birthday present.