The confidence level of India Inc is on the rise, as the impact of fiscal stimulus measures have begun to show on the economic activity. Eighty per cent of the companies believe that the Indian economy is on the road to recovery and expect improvements in growth performance in the months to come.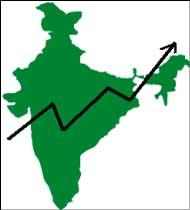 A survey to gauge business confidence sentiment, carried out by Federation of Indian Chambers of Commerce and Industry, for the month of September, also said 60 per cent of the companies reported improved industry performance at present, compared to the last six months.
The survey drew responses from 372 companies with wide geographical and sectoral spread. Companies participating in this survey had a turnover ranging from Rs 1 crore (Rs 10 million) to Rs 116,000 crore (Rs 1,160 billion).
Respondents to the survey were from sectors like textiles, cement, steel, leather, chemicals and fertilisers, oil and gas, automobile and auto components, food processing, electrical equipment and machinery, plastic and rubber, among other sectors.
Around 86 per cent of the survey participants, however, have reported that poor progress and spread of monsoon this year could act as a dampener for the economic growth.
Besides weak demand, the other factors that are adversely affecting performance of members of corporate India are a rise in the cost of raw materials, manpower and credit, with 55 per cent, 45 per cent and 41 per cent of the respondents complaining about these, respectively.
Moreover, 92 per cent of the companies surveyed said there was enough liquidity in the system and there was not much difference in the loan amount sanctioned and disbursed by banks.
However, a significant 70 per cent of the respondents felt a high fiscal deficit and the massive borrowing programme of the government might lead to hardening of interest rates in the coming months.