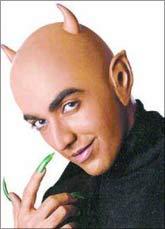 In the face of India's changing consumer tastes, Onida has decided to say goodbye to the 'devil', the company's mascot that for years aroused envy of neighbours who didn't own its TV sets, and relaunch the brand.
The company's 'devil' ad campaign, whose tagline was 'neighbour's envy, owner's pride, was a rage at one point in time, but the Indian multinational feels it has outlived its objective due to change in taste and financial capability of the consumer.
At the time this famous campaign was launched, owning a television was a matter of pride for Indians. However, things have changed in the last 20 years due to liberalisation which has expanded market for both domestic and global brands as well as spending capabilities and owning a TV is no more a subject of neighbour's envy.
"Onida is in the process of building a completely new brand mascot to appeal to India's new consumerism. Noted ad veteran Prasoon Joshi and his team is helping the company in the brand re-birth process," a senior company official said, while confirming that a decision has been taken to send the devil back to where it belongs.
With stiff competition from international brands like LG and Samsung, Onida is now preparing to rebuild its brand to appeal to the new age Indian consumers.
"It is just like Air India doing away with its popular mascot Maharaja. Devil is no longer considered relevant in today's market," he said.
Onida, established in 1982 under Mirc Electronics, today enjoys a strong equity among consumers making it one of the leading brands in India. It offers a wide range of household appliances, including air-conditioners, washing machines, DVDs, plasma and LCD televisions and home theatre systems.
Onida has a network of over 33 branch offices, 208 customer relation centers and 41 depots spread across India. Once discontinued in 1998, the devil was brought back by the company in 2004, the official said, adding that now the time has come to move on.
Asked by when the new ad campaign would be launched, he said by September-end the brand would be revealed as the contours are being finalised by the team working on it.
"Since the devil has become as good as a logo for Onida products, shelving it is a brave decision and a brave step for the company," the official said.