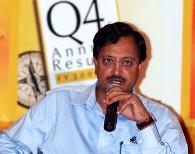 A detailed report of the medical tests conducted on former chairman of Satyam Computers B Ramalinga Raju, who was admitted to NIMS in Hyderabad, is likely to come out by this evening and would be communicated to Chanchalguda jail authorities, a senior NIMS doctor said.
"Once the reports of various tests carried out on Raju, which is likely to come out later this evening, are fully evaluated we will hand over the same to Chanchalguda Jail Superintendent M Chandrashekhar," Nizam's Institute of Medical Sciences Medical Superintendent Dr N Satyanaryana told PTI.
The condition of Raju, who was admitted last evening following complaint of chest pain, is stable and he has been kept under observation, Satyanaryana said.
After preliminary examination, doctors conducted an electrocardiogram on Raju and shifted him to ICU where a series of tests is being carried out.
Asked when will Raju be discharged, he said, "at this stage, it's very difficult to tell about it." The cause of pain will be known after all tests are fully evaluated, Satyanaryana said.
Meanwhile, Raju's family members also met him at the hospital and it was learnt that he communicated with them.
The doctor said Raju was also suffering from Hepatitis C-(Genotype 1). Doctors of Osmania Medical College, who examined Raju two months ago had advised him to undergo treatment under expert guidance and referred him to the NIMS.
Raju is lodged in Chanchalguda jail where he is under judicial custody on criminal charges including fraud, forgery, cheating, embezzlement and insider trading.
He was arrested on January 9 in connection with multi-crore Satyam fraud case and is in jail along with his brother and Satyam's former managing director Rama Raju, ex-CFO V Srinivas, two former auditors of Pricewaterhouse Coopers and three former employees of Satyam.
Earlier, Raju's defence counsel, in a petition at a local court, had stated that he was suffering from cardiac problem and blood pressure and the demand for conducting lie detector and brain map tests on him would endanger his health.