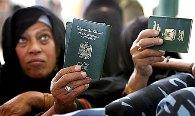 Even as the economic turmoil has squeezed the global employment market, many an immigrant is preferring to remain in their adopted countries rather than return home, says a report.
Moreover, illegal migration to many countries has come down in recent months in the wake of declining job opportunities.
"Immigrants are overwhelmingly choosing to stay put in their adopted countries, rather than return home, despite the impact of the economic downturn on employment," the report by the Washington-based Migration Policy Institute for BBC World Service has said.
According to the report, some migration flows, particularly illegal migration, are also down. The decline is mainly due to the fact that "would-be migrants are being deterred by reduced job prospects in countries that would previously have offered them greater opportunities".
The study noted that recession has also dampened the movement of economic migrants to the major immigrant-receiving regions of the world.
The report focuses on migration flows to and from the major migrant-destination regions as well as movement in major migration corridors including Gulf State flows from Bangladesh, India, Nepal, and the Philippines.
Even though there has been a decline in money sent home by migrants, some regions are seeing remittances either increasing or holding steady, the report said.
Remittances have remained an important source of income for immigrant-sending countries especially since other financial streams, including export revenue and other forms of foreign private investment, have proven more volatile, it noted.
"The recession has hit migrants and their financial well-being particularly hard, with repercussions not only for migrants and their households but for immigrant-sending and receiving countries as well," the report added.
Bogged down by one of the worst financial crisis in decades, many developed economies have slipped into recession.