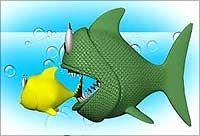 Hostile takeover bids worldwide have slumped 66 per cent to $124.4 billion so far in 2009, with US-based Kraft Foods' $19.8 billion offer for British major Cadbury being the second largest.
"Worldwide hostile bid volume in 2009 year-to-date has touched $124.4 billion, down 66 per cent from 2008 YTD at $362.4 billion," a report by global deal tracking firm Dealogic has said.
Despite a drop in valuation the quantum of such bids remains relatively constant with 88 hostile bids in 2009 YTD compared to 90 hostile bids in 2008 YTD.
A hostile bid can be defined as a takeover attempt despite strong resistance by the target firm.
Earlier this week, Cadbury had rejected the proposed buyout offer made by Kraft Foods for 10.2 billion pounds, but the American food and beverage group remained hopeful of carrying forward a constructive dialogue.
"Kraft Foods' $19.8 billion bid for Cadbury is the second largest hostile bid in 2009 YTD following Swiss firm Xstrata's $48.3 billion bid for Anglo American in June," Dealogic said.
The average number of days for completion of hostile or unsolicited bids has fallen to a record low of 66 days in 2009 YTD. Last year the number stood at 82 days.
Besides, Kraft's bid is the second largest bid by an American company, since Microsoft's $47.5 billion bid for Yahoo! in February 2008, the report noted.
Further, hostile bids targeting Emerging Market Europe and Africa (EMEA) plunged to a five-year low of $562.1 billion so far this year, recording a decrease of 38 per cent over the year-ago period.
According to Dealogic, hostile bids targeting entities in the EMEA is on the rise, with the region witnessing seven such offers worth over $10 billion so far in 2009.
In the year-ago period, the count of these bids stood at six.