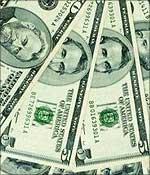 India is back on the radar of global investors even in the midst of the global financial crisis, with 56 per cent year-on-year rise in inflows of foreign direct investment in July this year, an official said.
The foreign direct investment inflows in July this year was at $3.51 billion against $2.25 billion in the same month last fiscal.
In June this year the figure was at $2.58 billion. However, the total inflows during the April-July period contracted by about 15 per cent to $10.53 billion over the same quarter of 2008-09, because of accruals in the opening months of the fiscal.
In the first four months of 2008-09 it was at $12.32 billion.
"We are hopeful that by the end of this financial year, FDI would be over $30 billion," the official added.
In 2008-09, the government had set a target of $35 billion, but was able to receive only $27.3 billion due to the meltdown in the global financial markets.
The FDI inflows fell significantly from October 2008 and the monthly data remained lacklustre till June.