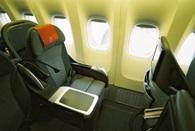 Finance Minister Pranab Mukherjee on Friday sought to downplay the controversy over
austerity measures
that had kicked up a row in the cabinet meeting on Thursday saying it could be due to some misunderstanding.
He said the Finance Ministry had only made a request to ministers, MPs and officials entitled to take the economy class in domestic flights and in international flights the ministers could travel by executive class.
"I have suggested that in domestic services you should try to avoid (travelling executive class) because the distance is not far. As far as international flights are concerned they can travel executive class instead of first class", Mukherjee said in an interaction with journalists.
"There is some misunderstanding", he said, adding that "every ministry has financial advisors who understand what is practical and implementable and they would advise you accordingly".
"So don't worry over it," he told his cabinet colleagues who had raised questions in the cabinet about the practicability of austerity measures announced by the Finance Ministry on Monday.