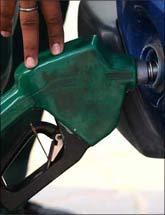 State-run retailers IOC, BPCL and HPCL may lose about Rs 45,000 crore (Rs 450 billion) on selling auto and cooking fuels below cost this fiscal, two-third of which will be compensated by the government by issuing bonds.
"Out of these under-recovery (revenue loss), about Rs 17,000 crore (Rs 170 billion) would be on kerosene alone. Another Rs 12,000-Rs 13,000 crore (Rs 120-130 billion) would be on domestic LPG and the remaining Rs 15,000-Rs 16,000 crore (Rs 150-160 billion) would be on account of auto fuels petrol and diesel," Petroleum Secretary R S Pandey told PTI.
Indian Oil, Hindustan Petroleum and Bharat Petroleum lose Rs 4.69 per litre on petrol and Rs 3.09 a litre on diesel. They sell LPG at a loss of Rs 158.55 per 14.2-kg cylinder and kerosene at Rs 17.15 per litre loss.
The three firms lose about Rs 170 crore (Rs 1.70 billion) per day and may end the 2009-10 fiscal with Rs 44,274 crore (Rs 442.74 billion) revenue loss if international crude oil prices were to stay at the current level of around $70 per barrel.
Pandey said the entire revenue loss on domestic LPG and kerosene would be met by the government possibly through issue of oil bonds.
The same on petrol and diesel would be compensated by upstream firms like ONGC by way of discounts on crude oil and LPG they sell to the three retailers.
"Oil marketing companies (IOC, BPCL and HPCL) may have to bear a part of the under-recovery on auto fuels," he said, adding the proportion has not yet been decided.
Pandey said the government would balance the interests of consumers who do not want fuel prices to be raised, and the oil companies' financial health in deciding the subsidy sharing plan.
IOC, BPCL and HPCL, he said, had last year not been asked to bear any part of the losses as they did not make any profits.
"This year we have to look at (their) profitability. May be to some extent, they will have to bear under-recoveries on petrol and diesel," he said.
Of the Rs 103,292 crore (Rs 1,032.92 crore billion) revenue loss on fuel sales in 2008-09 fiscal, 68 per cent was met by the government through issue of oil bonds. Upstream firms ONGC bore Rs 28,225 crore (Rs 282.25 billion), GAIL India Rs 1,781.2 crore (Rs 17.812 billion) and Oil India Ltd Rs 2,936.7 crore (Rs 29.367 billion).
Pandey said the government has formed a five-member committee headed by Kirit S Parikh to suggest reforms in pricing of auto and cooking fuels.
"The expert group headed by Parikh will submit its recommendations in three months," he said.
Other members of the committee are Indian Council for Research on International Economic Relations chairperson Isher Judge Ahluwalia, National Council of Applied Economic Research Director General Suman K Bery and the secretaries of the ministries of finance and petroleum.
The panel headed by Parikh, a former member (energy) of the Planning Commission and author of the Integrated Energy Policy, will be the third committee on the issue as recommendations of previous C Rangarajan committee and B K Chaturvedi committee were not fully implemented.
Pandey said the new group will "advise on a viable and sustainable system of pricing of petroleum products" and examine the current pricing policy of petrol, diesel, domestic LPG and kerosene.
The group will examine the current taxation structure as well as the financial health of the public sector firms to suggest a 'viable and sustainable pricing policy'.
The terms of reference of the new group state that it will 'examine the current taxation structure on the sensitive petroleum products, with particular reference to petrol and diesel and make recommendations to rationalise the taxes levied by the Central and state governments.'
Besides, it would go into the 'financial health of the public sector oil marketing companies and to recommend ways of compensating them for their under-recoveries in case they are not permitted to charge market prices as a result of government's intervention, in order to protect consumers.'
Prime Minister's Economic Advisory Council Chairman C Rangarajan had submitted the report in 2006, while B K Chaturvedi, Planning Commission member, had given his report in 2008.