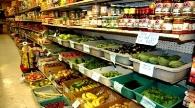 Essential items are 65 per cent costlier than last year; traders blame it on higher MSP, confusion in govt, writes
Dilip Kumar Jha
.
Prerna Pradhan, a housewife, winces each time she looks at the wholesale price index numbers or the inflation rate put out by the government. "Those numbers are nothing but a cruel joke," Pradhan, a mother of two, said.
Pradhan, like her counterparts in countless Indian middle class families, has reasons to feel worried. Her household budget on staples like rice, wheat, tur (arhar) and sugar has gone up by an average 65 per cent in the past one year, though income has remained stagnant at last year's level.
For example, the fair average quality column rice was available at Rs 24 a kg around the same time last year. This has shot up to Rs 38 per kg now, even though India produces about 100 million tonnes of rice every year which can comfortably meet the domestic demand. Since export of non-basmati rice has been banned, the domestic availability remained as it was last year.
Observers have blamed the huge increase in the minimum support price and "inflationary expectations" due to poor monsoons this year for this "abnormal" price increase. What may dampen Pradhan's spirits further is the fact that the rainfall has been 25 per cent deficient this year, which is expected to hit rice production by 10 per cent. Therefore, prices are expected to go up further.
Vijay Setia, president of All India Rice Exporters' Association, held panic statements by ministers responsible for the price hike. Both Finance Minister Pranab Mukherjee and Agriculture Minister Sharad Pawar first said that India had sufficient foodgrain to feed everybody for 13 to 14 months in case there was a drought.

Within a few days, Mukerjee told Parliament that the country will require to import 15 million tonnes of foodgrain including rice and wheat to meet this season's demand as domestic output is set to fall 5 to 10 per cent.
The confusing statements prompted many traders to hold on to their inventories in anticipation of higher price yields in the future.
Sethia said that since the crop is normal globally, prices could cool down soon. He added that the government raised the minimum support price or MSP up to 15 per cent and its final affect on the retail price of commodities was at least 22.5 per cent. The rise in wheat prices has also bothered housewives. The government has claimed that it has handled wheat stocks efficiently and production has been normal at around 78 million tonnes against consumption of 76 million tones. Yet, each kg of wheat has increased Rs 6-8 since last year with the FAQ variety quoting at Rs 20 per kg now.
Sugar prices have more than doubled to Rs 34 a kg from Rs 16 a year ago, forcing many housewives to halve the monthly intake from 1 kg per person to 500 grams. Pradhan said she has also cut down on tea from four or five cups a day to just two. 'That's the only way I can beat the price rise," she said.
According to estimates, the average per capita consumption of rice and wheat in an Indian family is 7 kgs each and that of tur 1 kg. Though Pradhan hasn't yet gone in for a cut in these food categories, she didn't rule out such an option if the prices continue to rise.
Last year, sugar availability in the country was almost at par with consumption at 23.5 million tonnes. Since the ministry of agriculture has permitted free raw sugar import by private companies also, there is no reason why supply could not meet the demand and thereby control prices.
Officials said the reasons behind the sudden rise are lesser area under sugarcane, global rise in prices and hoarding by traders. The area under sugarcane has been reduced to 400,000 hectares from last year's 510,000 hectares. This is due to delayed monsoon and lower sugarcane prices last year. Officials however said the price rise is not in proportion to the decline in production.
On pulses, stagnant production has led to the price rise. Import-dependent India has seen around 2.5 times increase in pulse prices in the past one year.
The country's increasing demand for pulses due to the rise in population has resulted in an increase in net imports from about 460,000 tonnes in 1998-99 to over 2 million tonnes in 2008-09. This is likely to go up if serious attention is not given to increasing production.