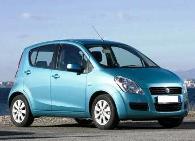 In a move to boost export of automobiles from India, the government has announced additional incentives on overseas shipments of cars and good carriers to 13 countries, including Australia and Brazil.
Cars and other vehicles used for transportation of goods have been included in the new market linked focus products, under which exporters will get incentives equivalent to two per cent of free-on-board (FOB) value of exports in foreign exchange, the Directorate General of Foreign Trade said.
Earlier, under the scheme the exporters were getting 1.25 per cent of FOB value of exports.
In the new Foreign Trade Policy, the government had identified 13 countries, including those in Latin America and Africa, in a bid to increase exports, which are on a downslide since October 2008.
Automobile firms exporting vehicles to Algeria, Egypt, Kenya, Nigeria, South Africa, Tanzania, Brazil, Mexico, Ukraine, Australia, New Zealand, Cambodia and Vietnam, will get the benefits of focus product schemes.
Exports of cars and goods transport vehicles were valued at $4.68 billion during April-December 2009. Outward shipments of the products in 2007-08 was $4.48 billion.
Hyundai Motor India, Maruti Suzuki and Tata Motors are the leading exporters of cars from India.
In August 2009, India's overall passenger car exports stood at 40,901 units as compared with 29,741 units last year.
In the April-August period this fiscal, 1,71,446 units have been exported as against 1,23,244 units in the corresponding period last year.