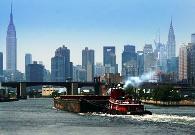 Companies across the world have continued to send employees overseas to take advantage of business opportunities, despite a reduced budget for international assignment programs during the economic downturn, a KPMG survey says.
According to a survey of 470 human resources (HR) executives by the global consultancy, firms are implementing a variety of options to potentially save costs associated with long-term or standard assignments.
Some of these options include short-term assignments (STAs), currently being used by 79 per cent of firms, while permanent transfers is being utilised by 45 per cent of organisations, the survey said.
"KPMG survey results mirror our experience with clients. We saw that companies/employers often adjusted parts of their programs and examined alternate assignment types based on their business needs, but continued to send assignees to work on long-term business opportunities overseas," Achim Mossmann, managing director of global mobility advisory services, KPMG LLP said.
"As the decline in global economy affected almost every area of business and most firms assessed cost-effectiveness of their operations, international assignments were no exception," Mossmann added.
The KPMG survey also revealed that firms made changes to various policy provisions to save costs.