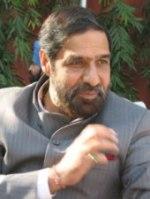 Achieving or nearing the export level of $168 billion in 2008-09 in the current fiscal would be a key challenge for India against a projected sharp fall in global trade, Commerce and Industry Minister Anand Sharma said on Wednesday.
"If we are able to sustain, or be close to the level of last year, I would still call it growth," Sharma told reporters.
Sharma is in Stockholm leading a CEOs' delegation of the Confederation of Indian Industry.
India's exports slid for the 11th straight month in August by 19.7 per cent to $14.3 billion as global demand for merchandise remained sluggish.
For the April-August period, the overseas shipment contracted by 31.3 per cent to $63.9 billion from $93.1 billion in the same period last year.
However, Sharma saw things improving next fiscal. "We would like to take our exports from 2011 again into 25 per cent growth rate and doubling our share in global trade by 2020 is our target. We are sure we will be able to achieve $200 billion next year".
President of Federation of Indian Export Organisations A Sakthivel had said that Indian exports this fiscal were expected to be in the range of $150-155 billion.
Bulk of the country's exports go to the developed markets of the US and Europe and several other economies affected by the worst recession since 1930s.
Image: Commerce and Industry Minister Anand Sharma