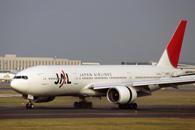 Japan Airlines will slash 6,800 jobs and suspend a number of overseas routes in an attempt to cut cost.
"Japan Airlines is to cut 6,800 jobs, slash its network of overseas routes and withdraw from some airports as it seeks to attract the debt and equity funding needed to repair its balance sheet," the Financial Times said.
Attributing to JAL's president Haruka Nishimatsu, the report said that the company aims to agree on a capital injection from a foreign rival by mid-October.
According to the publication, JAL is in talks with US rivals Delta Air Lines and American Airlines about an equity injection of about 30 billion yen ($328 million).
Both carriers' proposals to JAL may also feature investment commitments by other international airlines, including Delta's venture partner, Air France-KLM, and allies of American Airlines such as British Airways, the report said citing people familiar with the matter .
The company's restructuring plan presented to an official plan on Tuesday, is its last-ditch attempt to persuade the government, its banks and potential investors that it can return to profit. The plan includes heavy cuts to JAL's international network, where demand is most volatile.
JAL would now focus more on its domestic services, the report said attributing a transport ministry official who attended the presentation.
JAL also intends to increase the use of smaller aircraft on some routes and to withdraw entirely from some airports.
In addition to the job cuts, the company also wants to reduce pay and pension costs, the report noted. The report said that JAL lost 63 billion yen last year and a further 99 billion yen in the quarter from April to June.
The company has about 100 billion yen in debt maturing in December and would need to refinance another 100 billion yen by March, while shareholders' equity had fallen to 10 per cent of total assets by the end of June.