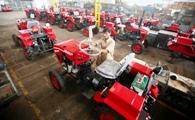 Citing "serious fiscal situation", Union Commerce Secretary Rahul Khullar said that no new incentives and sops could be provided to exporters in the next fiscal in view of significant resource crunch faced by Centre.
Khullar tersely told a meeting of exporters last night that the current fiscal situation was so serious that it was not going to be a "temporary problem" in terms of resource-crunch.
There was bad news for exporters who tend to believe that the government would come around next year and "throw money" at them, he said addressing Federation of Karnataka Chambers of Commerce and Industry, Federation of Indian Export Organisations and Bangalore Chamber of Industry and Commerce.
"There are some problems which will not go away merely because you throw money at them", he said.
In April-August this fiscal, India's exports contracted by 31.3 per cent to $63.9 billion from $93.1 billion in the same period last year as demand weakened in its traditional markets of the US, European Union and Japan, which account for more than two-thirds of its outward shipments, he said.
When the country was facing a tight budgetary constraint, the government has no option but to tell the exporters that it can't give anything next year because "there is a bigger national problem".