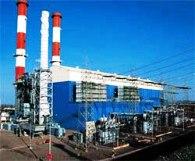 The beleaguered Dabhol power plant will from October 1 start buying natural gas from Reliance Industries to cut electricity generation cost at the nation's largest gas-fired unit.
"Yes, we will start taking (RIL's) KG-D6 gas from October 1," A K Ahuja, managing director of Ratnagiri Gas and Power Pvt Ltd, the company that runs the 2,150 MW power plant and adjoining LNG receipt facility in Ratnagiri district of Maharasthra said.
The government has more than doubled RGPPL's allocation from KG-D6 to 5.67 million standard cubic meters per day that will help generate about 1,000 MW of electricity.
RGPPL was initially allocated 2.7 mmscmd of gas for the period between April and September but the company had not draw even a single unit as it had a running contract with Petronet LNG Ltd to buy imported liquefied natural gas.
It paid a burner-tip price of $7.8 per million British thermal unit for the regassified-LNG sourced from Petronet.
"The delivered price of KG-D6 gas would be $6.2 per mmBtu," Ahuja said. "One dollar per mmBtu reduction in cost of gas will bring down electricity generation tariff by 35 paisa per unit."
RGPPL currently produces 950 MW of electricity at Rs 4.70 per unit. This would come down to Rs 4.2 per unit with KG-D6 gas.