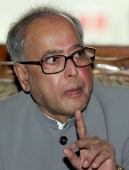 Finance minister Pranab Mukherjee said on Wednesday that the Reserve Bank of India should not tighten the monetary policy as the government has planned to borrow huge amounts from the market.
"I am not prescribing a tight money policy", he said, pointing out that fiscal and monetary policies adopted by the government and the RBI to combat the slowdown are paying dividends and signs of recovery have started to show up.
The government proposed to borrow about Rs 4.5 lakh crore (Rs 4.5 trillion) from the money market during the current fiscal against Rs 3.1 lakh crore (Rs 3.1 trillion) in the previous fiscal.
RBI, which has considerably eased the monetary policy to provide liquidity to the crisis-hit industry, is slated to announce second quarterly review of the monetary policy on October 27.
Referring to the growth prospects during the current fiscal, the minister expressed hope that the country would register over six per cent GDP growth. "Both the fiscal and the monetary policies are working well in tandem and paying dividends," he added.
The Asian Development Bank in its recent update on the Asian Development Outlook has revised India's growth projections to six per cent from five per cent. The Planning Commission has projected 6.3 per cent economic expansion during the fiscal.
The minister told the Bengal Chamber of Commerce & Industry annual general meeting in Kolkata that private borrowings would not be crowded out as a result of the government's borrowing programme.
On stimulus packages, he said it was not advisable at this point to withdraw them as they are helping in the reversal of the economic downturn.
On fiscal deficit, he sounded caution and said the budgeted fiscal deficit of 6.4 per cent of GDP was not sustainable.
Mukherjee said the rise in fiscal deficit had been due to a few items of special expenditure like payments for the Sixth Pay Commission and fiscal concessions under the stimulus packages.
He said the target was to bring it down to five per cent in 2011 and four per cent in 2012.
Expressing concern over the lagging exports (in dollar terms), the minister said that from October 2008 till date there has been no recovery.
This, according to him, was due to the downturn in the European economies and Japan.
On the impact of drought on agriculture, he said that the kharif crop had been affected.
However, the late rain would compensate for the loss in kharif and the rabi season is expected to be normal.
Image: Pranab Mukherjee