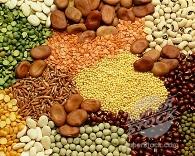 The global food production must shoot up by 70 per cent to be able to feed an additional 2.3 billion people by 2050, the Food and Agriculture Organisation (FAO) said on Wednesday.
According to the UN body, which will meet in Rome on October 12-13 to deliberate upon the strategies on 'How to feed the world in 2050', "world population is expected to grow by over a third (or 2.3 billion people) between 2009 and 2050".
Therefore, feeding a world population of 9.1 billion in 2050 from the current 6.8 billion would require overall 70 per cent surge in food production.
"The demand for food is expected to continue to grow as a result of population growth and rising incomes," FAO said while releasing the discussion paper for the meeting.
The demand for cereals (for food and animal feed) is projected to reach some 3 billion tonnes by 2050. Annual cereal production will have to grow by almost a billion tonnes from the current 2 billion tonnes and meat output by over 200 million tonnes, it said.
The paper noted, "the production of biofuels could also increase the demand for agricultural commodities, depending on energy prices and government policies."
FAO's Assistant Director-General Hafez Ghanem pointed that "feeding everyone in the world by then will not be automatic and several significant challenges have to be met."
The UN body called for stronger interventions to make faster progress towards reducing and finally eliminating the number of hungry and poor people.