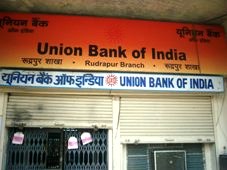 Union Bank of India has approached the government for a capital infusion of Rs 1,800 crore (Rs 18 billion) to fuel its expansion plans, a top bank official said.
"We have asked for Rs 1,800 crore capital from the government. Whether this will be availed in equity or some other form remains to be worked out," UBI's executive director S Raman told reporters in Mumbai on Friday.
The bank expects Securities and Exchange Board of India approval for its proposed asset management company in the next few days, Raman said, adding once the approval is secured, the bank expects to start operations of the AMC in a couple of months.
"We expect this (Sebi nod) any time now," Raman said.
With industrial activities picking up, the bank has seen a pick-up in credit in the last one month and the situation is expected to improve further in the months ahead, Raman said.
The public sector lender did not expect any significant increase in its non-performing assets in the remaining part of this fiscal, he added.