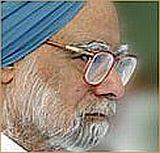 Prime Minister Dr Manmohan Singh spoke to mediapersons about a number of crucial issues after the G-20 Summit in Pittsburgh. Here is the transcript:
On Indian economy
There is no economic crisis in India. It is certainly true that as a sequel to the global economic crisis our exports have suffered that has affected the rate of growth. But even then our economy is growing at the rate of 6 to 6.5 percent, therefore there is no crisis as such in India.
Now, as far as the NRIs are concerned, they are welcome to contribute to India's development through bank deposits, through participation in capital markets both direct and portfolio investments. Portfolios are open to non-resident investors, and we very much welcome participation in processes of economic development in our country.
On shifting of power from G-8 to G-20
Well I think interdependence of nations is a fact of life and interdependence in a globalised world means that no country, how so ever powerful it may be, can take on the entire burden of economic adjustment and economic decision making that may be required to manage the global system in an orderly fashion. Now, it is that perception and that reality which has I think persuaded many people in the Europe and the United States that the G-8 is ill equipped to handle all the global issues, with the rise of Asia, with the growth of India, China and Brazil -- the economic decision-making has to take into account the view of these countries if it is to have optimum impact.
On UNSC resolution on NPT
We have been assured that this is not a resolution directed at India and that the United States commitment to carry out its obligations under the civil nuclear agreements that we have signed with the US remains undiluted, that we have been assured officially by the United States government.
On impact of protectionism
Well, if the world economy collapses there is obviously some effect on our country. Already the rate of growth of our economy particularly our exports have suffered. This has led to a decline of our exports of important labour intensive products like gems and jewelry, leather goods and textiles. So in an increasingly interdependent world no country by itself can ensure that all its economic goals can be achieved working in exclusion of other participants in the increasingly interdependent world. So there is therefore a necessity for India to ensure that the global economic system continues to progress. We need an external environment, which is conducive to the growth of our exports; we need an external environment which is conducive to the increasing flow of capital, an international environment which is conducive to increased flow of technology. And all these things have a bearing on the rate of growth of our economy.
On fiscal space
Well, our specific circumstances have to respond to our domestic situation and it is certainly true that we have limited fiscal space and therefore scope for a fiscal stimulus -- accelerated stimulus is rather limited. Monetary policies had some scope but that also would be affected when the inflation becomes a problem. But as of now it is not a problem, inflation is under control, but our options are limited being constrained as we are by the substantial amount of fiscal deficit. And also the monetary initiative, which the Reserve Bank of India has taken with those also the scope, is reduced at the margins.
On review and monitoring of world economy
There is the International Monetary Fund, there is the `World Financial Stability Board, there is also an agreement at today's meeting that the G-20 economies will be monitored by the IMF through an independent process of evaluation. There will be a sort of peer review so obviously the process of peer review if it gets going will provide opportunities for all the G-20 group countries to fixing rules to discuss the rights, the weaknesses and strengths of the economies of the various countries including the strength of the financial system and the banking system in future. 
On ministerial level talks between India and Pakistan
India's message is that we seek to normalize its relations with Pakistan. The only obstacle is that Pakistan should give up its old attitude regarding the use of terror as an instrument of state policy. And we hope that with the material that we have supplied to Pakistan regarding the massacre that took place in Mumbai in November, they would carry out investigations, although the tragedy took place in India the conspiracy was hatched in Pakistan and that has been admitted by the Pakistan government. We sincerely hope that they would carry forward this process of investigation and bring to book all the culprits. If that is done I have said it in Parliament we will move an extra mile to normalize our relations, we are neighbours and as neighbours we have an obligation to work together. 
On Iran's so far hidden nuclear programme
This was not a subject matter that came up for discussion in the G-20 group. Now I heard it only today about this news being flashed. As far as India is concerned our position has been in principle that Iran is a signatory to the NPT (Non Proliferation Treaty) and as a signatory to the NPT, it has all the rights which go with its membership that is peaceful use of atomic energy. And it must also carry out all its obligations. I think that is our position and that's the principled position that we have taken in the last fives years.
On India's role in Afghanistan
The United States and the European countries have been very appreciative of the role that India has played in Afghanistan. We are not supplying any armed forces, we are there to assist the Afghan people in construction and development. We are helping finance some of the most important projects in the area of power, road transport, health and education; and till today, we have committed about $ 1.3 billion not only to the government but to the people of Afghanistan. As far as the neighbourhood is concerned I agree with you that we live in an un-stable environment, we have to sail in these difficult waters as best as we can.
On US President Obama
President Obama this time did not give any one any separate meetings. But I had the opportunity to talk to him last night, I was sitting immediately to his right so I had an opportunity. This morning also I had an opportunity to talk to him on some important issues. But as a principle he said because of his pre-occupation with the Conference he was not meeting any leader bilaterally.
On tax havens
The regulatory system which has to be reformed is part of the continuing agenda of the G-20 and therefore I think treatment of entities in tax havens remains a matter of concern. Even today's discussions touched upon that; so it is not correct to say that that is a subject which is not of concern to the G-20 countries.
On imbalance in world economies
Well I would say that the G-20 is an essay in persuasion -- whether we succeed in persuasion, whether it succeeds in achieving its objectives only time will tell.
On MTN and Airtel issue
Well, as far as the MTN issue is concerned, I did mention this to South African President Zuma that I sincerely hope that this deal will go through and that the Indian companies will not be subjected to any discriminatory practices.  It has been agreed that this matter can be further discussed with the government of South Africa.
On Indian stock market
As far as the stock market is concerned, I am now out of touch with what is happening in stock markets. . But obviously in recent months the stock markets have benefited from the return of confidence, return flow of capital back into India, so that's one factor; plus I think the fundamentals of the economy continue to be very strong and fundamentals do have a role in influencing stock prices. So I think that it's the right mood.
On 5 percent shift of share of IMF in favour of developing countries
It is a compromise figure because as of now the developing countries quota is about 43 percent. Therefore the member states of BRIC (Brazil, Russia, India and China) had suggested a rebalancing to the extent of 7 percent in which case the developing countries would have more than 50 percent or nearly that. So the comprise is 7 percent was the demand and 5 percent is what is agreed. So obviously it is a compromise.
On the likely outcome at Copenhagen climate change conference
I am not an astrologer. There are difficulties. How to bring about the adjustments in emissions is a complicated matter, which requires an exercise in burden sharing. There is no agreement about the rules of the game as to how this burden sharing is to be brought about. Developing countries are of the view that the greater responsibility for bringing about this situation is that of the developed countries. And therefore they should carry out credible commitment, credible action in order to control emissions and that the developing countries, if they are required to take any national action for that resources should be provided, financial resources as well as technological support.
Now there is a broad vague agreement that any agreement in which developing countries are also required to take any national action will have to be accompanied by credible action on the part of developed countries by way of additional provision of finance and also ensuring flow of technologies at affordable prices. But other than expressing a pious wish with regard to the success of the Framework Convention meeting in Copenhagen, the G-20 did not go into the mechanics of these. Well, I am afraid the view hat the developing countries should not adopt any mitigation or adaptation measures has no support among the developed countries. Even developing countries recognize their responsibility to undertake the adaptation and mitigation measures depending upon their capacities based on the principle of equity. So I am not aware of any body asking that developing countries should not be asked to undertake mitigation or adaptation efforts. 
On protectionist measures of Western countries
I think things could be worse in regards to protectionism. Although, there is evidence of creeping protectionism, it has not reached an alarming point. And therefore, it is necessary to bring international pressure to restrain and restrict the growth of protectionism. Now, as far as the measures taken which will benefit India, let me say that I believe in the institutionalization of the Group of 20, plus also the agreement that countries, which have adopted stimulus measures, should not prematurely withdraw. As very significant for the growth of the Indian economy, India needs an international environment in which its economy can grow -- that means that if the world economy is growing, if the world trade is growing, I think that will certainly help to improve our own growth performance. 
On diversion of US aid by Pakistan against India
Well, I have seen the reports and the government of India has officially taken note of that. It has been brought to the notice of the US government.  Even in the past whenever some sophisticated weaponry was made available by the United States to Pakistan, we have always known that the only country against which these weapons can be used is India.