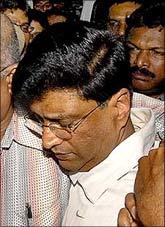 The Institute of Chartered Accountants of India has found two top officials of Satyam Computer Services and four auditors of Price Waterhouse prima facie guilty in the Rs 7,800-crore (Rs 78 billion) fraud case, a top ICAI official said.
Besides, the apex body of chartered accountants has also found audit firms -- Price Waterhouse, Kolkata, and Price Waterhouse, New Delhi -- prima facie guilty of misconduct.
"The director (discipline) has found two officials of Satyam Computer, Price Waterhouse and its four auditors prima facie guilty of professional misconduct in the Satyam case," ICAI president Uttam Prakash Agarwal said.
The opinion of director (discipline) was considered and has been approved by ICAI's disciplinary committee, Agarwal said.
Two Satyam officials found "prima facia guilty" are former CFO V Srinivas and Senior Vice-President, Internal Audit Cell, V S Prabhakara Gupta.
The disciplinary committee also found four auditors from Price Waterhouse, Bangalore -- S Gopalakrishnan, Srinivas Talluri, P Shiva Prasad and C H Ravindranath prima facie guilty of professional misconduct, Agarwal said.
Hyderabad-based Satyam Computer plunged into a crisis after its founder-Chairman B Ramalinga Raju admitted to fudging account books of his company to the tune of nearly 7,800 crore.
Agarwal said Srinivas failed to carry out the statutory duties as Satyam's CFO, while Gupta failed in carrying out the internal audit of accounts of the firm.
Prasad and Ravindranath were part of the audit team for Satyam Computer, while Gopalakrishnan and Talluri signed the balance sheet, he said.
The disciplinary committee will now issue notices to all those found guilty for their written statements which are to be submitted within 30 days," Agarwal said.
If any person found prima facie guilty does not submit statements within the stipulated period, ICAI would further the process of personal hearing by issuing notices, he said.
Image: Satyam CFO Vadlamani Srinivas (R) being brought to the Chanchalguda prison after his arrest in Hyderabad in January 2009. Photograph: Krishnendu Halder/Reuters