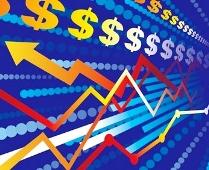 Economic recovery in emerging markets, including India, seems faster in comparison to developed countries with growth rates over the next two years forecast to be two times more than mature economies, a survey says.
According to global consultancy firm Grant Thornton, 57 per cent of privately held businesses in 14 of the world's leading emerging markets indicated that they were optimistic about the prospects of their country's economy in the year ahead, while just 2 per cent in mature economies believed so.
"Not only have these economies been less severely hit, but they are also recovering more quickly, with growth rates over the next two years forecast to be double than that of more mature economies," Grant Thornton India National managing partner Vishesh Chandiok said.
In the Grant Thornton emerging markets opportunity index, China leads the way-- thanks to its huge consumer market, increasingly open economy and trade growth, followed by the other developing Asian powerhouse India.
Russia is on the third position largely due to its wealth of natural resources followed by the two largest Latin American economies -- Mexico and Brazil -- Grant Thornton's International Business Report on Emerging Markets said.
Labour market in emerging economies also appears to have remained healthy during 2009 compared to developed countries.
Vietnam topped this chart among emerging market economies, where 54 per cent of the respondents increased employment, followed by India where 33 per cent increased recruitment.
"Growth opportunities in key sectors such as power, infrastructure, education and healthcare, offer tremendous opportunities to all stakeholders," Grant Thornton India Associate director (privately held business solutions) Anupam Kumar said.
However, the survey also reported that businesses in emerging markets fear their growth prospects being hampered by poor access to finance and lack of highly-skilled workers to a much larger extent than their counterparts in the developed economies.
Emerging economies occupy four of the top five places in terms of optimism for the year ahead and are more hopeful than mature economies regarding most economic indicators, Grant Thornton said.