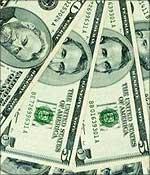 Compensations received by the chief executive officers declined marginally in 2009, amid public uproar over big pay packages, says a media report.
As per the study of CEOs of 200 major US companies, the median compensation fell marginally by 0.9 per cent to $6.95 million in 2009, the Wall Street Journal said, citing an analysis by Hay Group management consultancy.
The median compensation consists of value of salaries, bonuses, long-term incentives, and grant of stock and stock options received by the chief executives.
The report said it was only the third time since 1989 that the total direct compensation has fallen for the US chief executives, the report said.
While in 2008, pay of CEOs fell 3.4 per cent.
The analysis also showed that highly paid CEOs generally run companies that deliver better-than-average shareholder returns.
According to the publication, decline in 2009 compensation reflected the recession, government controls and continued public outcry over big pay packages.
Long-term incentive awards, mostly stock and stock options, were the hardest hit, falling 4.6 per cent to a median $5 million.
Median means half the CEOs made more and half made less. Salaries and bonuses rose 3.2 per cent to $2.64 million.
As the recession deepened in late 2008, 'many boards lowered targets for 2009and so some CEOs collected bonuses even as profits declined,' the report said quoting Irv Becker, head of Hay's US executive-compensation practice.