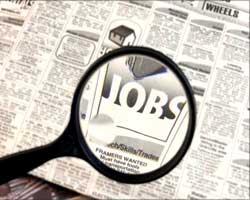 US job cuts have declined about 55 per cent in March this year to 67,000 compared to the same month in 2009, though it will take a while before hiring picks up, says a report.
While the job cuts in March is 61 per cent higher than the layoffs announced in February, the overall pace of downsizing is well below last year's levels, the latest report on monthly job cuts by global outplacement consultancy Challenger, Gray & Christmas Inc has said.
"While downsizing has slowed significantly in most other areas of the economy, we are yet to see a turnaround in hiring. Employers are always cautious when it comes to adding new workers, particularly when the economy is still relatively fragile," Challenger Gray & Christmas CEO John Challenger said. He said even when companies begin to add workers, 'it will be a slow process'.
"As many experts have noted, the unemployment rate will experience a very slow decline. In fact, it could take at least five years for it to return to pre-recession levels even with strong job creation," he added.
March job cuts were dominated by planned reductions on government payrolls, which were nearly 75 per cent of all planned layoffs announced during the month.
A majority of government cuts came from the United States Postal Service, which plans to reduce its headcount by 30,000 workers this year mainly through retirements and attrition.
"Many people are still jobless and many businesses still shuttered. This combination is having a significant negative impact on state and local tax revenues in turn leading to continued downsizing in this sector," the report said.
He said it is going to take many job seekers longer to find a job than they would like and many may have to accept a lower salary if they want to get back on a payroll.