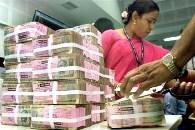 Last week, Indian Institutes of Management (IIMs) Bangalore and Kozhikode raised their fees by Rs 1.5 lakh and Rs 1 lakh, respectively. IIM Ahmedabad is also expected to soon raise its fee by Rs 1 lakh.
After the fee hike, IIM-A would charge Rs 12.5 lakh for the post graduate programme in management (PGPM) for two years and IIM-B would charge Rs 13 lakh. Indian School of Business (ISB), too, hiked its annual fee by Rs 80,000 to Rs 15.3 lakh for the one-year course.
No wonder, while qualifying for theses courses means a lot for the students, funding them requires significant financial capability. Then, there are educational loans that are offered by most banks and financial institutions. Many of them are coming with innovative products to tap this market.
Union Bank of India recently launched an education product known as 'Union Education (Special Education Loan Scheme)' designed for studies at top-rung Indian B-schools.
Under the new scheme, the bank is to cover the IIMs at Ahmedabad, Bangalore, Calcutta, Indore, Kozhikode and Lucknow; SP Jain Institute of Management and Research, Mumbai; XLRI, Jamshedpur and Indian School of Business (ISB), Hyderabad, among others.
This scheme has a single rate of interest for all kinds of courses. For instance, loans up to Rs 20 lakh for ISB and Rs 15 lakh for other institutes would come at the same fixed rate of 10.5 per cent for male students and 10 per cent for female students.
In addition, there is no collateral. Also, there is 100 per cent funding for all these courses, except for ISB, where 95 per cent of the course fees is given. S L Bansal, general manager - retail banking, Union Bank of India said "We have kept a margin of five per cent with loans for ISB because the course fee is high. Also, students have to pay this 5 per cent as registration fee, unlike other institutes. For other banks, the five per cent margin kicks-in when the loan amount exceeds Rs 4 lakh.
The repayment period is also higher. Union Bank is offering a repayment period of seven years. Other banks, generally, allow four years. The loan would be available for the course tenure and the repayment holiday or moratorium period is the course period plus one year or six months after securing employment, whichever is earlier.
Others like HDFC Bank also offer an exclusive product for premier management institutes, where the collateral is as per mandated by the Reserve Bank of India, said the bank spokesperson. According to the bank's website, for a two-year post-graduate diploma course, there is no collateral needed for loans up to Rs 12 lakh.
The loan is available for up to seven years, including the repayment holiday period. Loans worth Rs 15 lakh for the one-year executive programme does not require any guarantee and collateral. Loans above Rs 15 lakh will need adequate collateral.  "Our fixed rate of interest is between 10.50-13 per cent. Very soon we will also be launching the floating interest rates," said the bank spokesperson.
State Bank of India, the country's largest bank, has no fixed-rate education loan. The floating rate education product charges 11.75 per cent for loans above Rs 7.5 lakh. A concession of 0.5 per cent is given to female students. The bank sanctions loans up to Rs 10 lakh for studies in India and for loans above Rs 7.5 lakh, a collateral security equivalent to the full value of loan is required.
Axis Bank offers an education loan at 15.75 per cent (floating) for loans above Rs 7.5 lakh, the repayment period being four years, as per loan site apnapaisa.com. The bank offers loans up to Rs 10 lakh for studies in India with a third party guarantee and/or collateral security depending on individual cases, says the bank website.
Financial experts said that if you are looking for an educational loan, it would be a smart idea to start scouting for it quite early. "Go through brochures of different banks as it will help you to zero-in on the best one," said financial planner Suresh Sadagopan.
The three most important points that one needs to look at are:
Collateral or guarantee required for the loan
Rate of interest
Moratorium period
"Once you have all the details, you can try and negotiate the loan rate. Bank managers normally have the powers to reduce the rate by 0.25 to 0.5 per cent, depending on the quality of the customer," added Sadagopan.