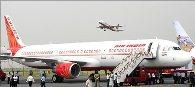 Moving ahead with its fleet expansion plan, cash-strapped Air India has sought a long-term loan of $475 million from banks and financial institutions to acquire three long-haul Boeing-777s.
A day after its Board met in Mumbai with four new Directors, National Aviation Company of India Limited (NACIL), which runs the national carrier, invited offers from Indian and foreign banks and financial institutions asking them to submit their bids by May 10, airline sources said.
NACIL had previously tied up with the institutions for financing a 50-aircraft acquisition project of which the national carrier has so far taken delivery of 17 new planes in three tranches of seven, three and seven, they said.
The entire project comprises purchase of eight Boeing 777-200 (Long Range), 15 B 777-300 (Extended Range) and 27 B- 787 Dreamliner aircraft fitted with GE engines.
The national carrier now wants long-term loan fund of $475 million to finance the purchase of three B777-300 Extended Range planes as well as a spare engine scheduled for delivery in 2010, the sources said.
While the government has provided guarantee to support the financing for the project cost, the sources said NACIL would prefer to obtain this guarantee to the minimum extent to save on guarantee cost.
At Tuesday's board meeting, the airline named expat Gustav Baldauf as its Chief Operating Officer. He had served as the executive vice-president (flight operations) of Austrian Airlines and was earlier vice president in Jet Airways.
AI CMD Arvind Jadhav and Baldauf are expected to prepare a comprehensive turnaround plan in the next 30 days for the airline which is projected to incur a loss of over Rs 5,000 crore (Rs 50 billion) in 2009-10.
The board on Tuesday also set up four committees in the areas of audit, finance, strategy and human resources to provide inputs to the management and through which progress of the turnaround plan would be monitored, the sources said.
The new directors, who attended the meeting, are industrialists Anand Mahindra and Harsh Neotia, Amit Mitra of FICCI and former Air Force chief Fali Homi Major.