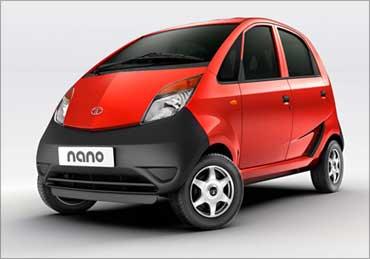 Another brand new Tata Nano car caught fire near Anand, the second such instance within a month, but the company claimed there were "no design flaws" with the world's cheapest car.
The incident took place at the vicinity of Boriyavi village, while a fleet of 11 Nanos was on its way to Vadodara.
According to police, one of the cars caught fire at the rear end but the driver was safe.
When contacted, a Tata Motors spokesperson confirmed the incident and said the car belonged to the company and was being taken to a dealership.
"We are investigating the cause of the fire but there is no design flaw with the car. The Nano has successfully passed all the national and international safety and durability certification," he added.
This is the second instance of a brand new Nano catching fire after one such instance was reported from Mumbai last month when a newly purchased car reduced to ashes while being driven home from the showroom.
"We are still investigating the cause of the Mumbai incident and are yet to pin point what happened," the spokesperson said.
Last year three incidents of the Nano catching fire in the steering column were reported from different places in India.
The company had blamed faulty combination switches for the incident and has since replaced the supplier.
Stressing that the Nano does not have any inherent problems, the spokesperson said: "The car has been tested for nearly two million kilometres under all road conditions before being launched into the market. Over 30,000 Nanos are on the road now, some close to a year now without any problem."
Launched last year, the Nano has drawn attention from all over the world and put Tata Motors under the global auto spotlight.