The 40 million mobile-internet users in India have taken the mobile-web traffic to new heights, according to AdMob, a leading mobile advertising network. According to the latest data from AdMob, web traffic from mobile phones touched the 1.2-billion mark in March 2010, making India's mobile-web traffic the second highest globally next to the US.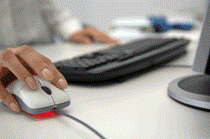 Mobile-web traffic reported a growth of over a 100 per cent in less than a year on the back of cheaper data plans and increased number of smartphones. 
Mahesh Narayanan, country manager India, AdMob concurs, "Mobile ownership and usage far outstrips ownership of PCs with internet access in India. In the near future mobile internet usage is going to overtake fixed line internet usage in India." 
Advertisers, say experts, are waking up to the unique opportunity to drive consumer acquisition and brand engagement on the mobile web using this platform. AdMob, which serves billions of mobile banner and text ads a month across a wide range of leading mobile websites and applications, has roped in around 100 advertisers in India which include names like Nokia, Vodafone, ICICI Bank, Travelocity, Toyota and Warner Brothers. "We have seen an incremental rise in the time spent browsing web over mobile phones and that presents a great opportunity for advertisers to engage with their customers," reasons Narayanan. 
The mobile ecosystem, which consists of the advertiser, the agency, the mobile ad network, the ad server and the content provider, besides the consumer has begun to attract advertisers who are eager to reach out to rural masses, claims AdMob. "Every advertiser today considers mobile and TV as mass-mediums. With 3G auctions due this week, we are hoping that with efficient data speeds in 3G regime will boost the mobile ecosystem exponentially," added Narayanan. 
A recent report by Google had indicated that mobile internet users have grown nearly five times in the last five years with close to 64 per cent of the web traffic coming from smartphone-like devices. The internet giant, too, recently acquired digital broadcast specialist, Episodic, that delivers live and on-demand video and is expected to enhance Google YouTube services, especially on mobiles.