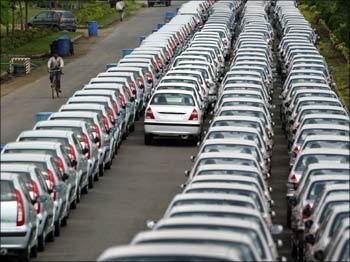 At a time when many major global auto markets witnessed declines, Indian carmakers were able to expand their overseas presence with exports from the country registering a robust 33.23 per cent growth in the last fiscal.
This is the fastest that Indian passenger car sales have grown in the last six years.
According to the figures released by the Society of Indian Automobile Manufacturers (SIAM), passenger car exports from India touched 441,710 units in FY10 against 331,535 units in the previous financial year.
The increase in exports was driven by demand for small cars in the European nations, which offered incentives to customers for buying new cars in exchange of their old ones under a scrappage incentive programme, SIAM President Pawan Goenka told reporters here.
Hyundai Motor India and Maruti Suzuki India took the maximum benefit of this scrappage incentive programme.
The country's largest exporter Hyundai Motor India witnessed an export growth of 12.75 per cent at 285,658 units compared with 253,344 units in the year-ago period.
Domestic market leader Maruti Suzuki India was a distant second, registering an over two-fold jump in overseas sales at 146,156 units in 2009-10 against 68,835 units in the previous fiscal.
Overall vehicle exports from India grew by 17.90 per cent at 1,804,619 units in the last financial year, while the same stood at 1,530,594 units in 2008-09, SIAM said.
However, during 2009, the major automobile markets across the globe witnessed a fall leading to an overall decline of 14 per cent. India, which saw its domestic sales climbing by 26 per cent, is the second fastest growing market after China having 42 per cent growth in its overall sales.
One of the largest auto markets in the world, the US, saw its sales falling by 21 per cent, while it declined 9 per cent in Japan in 2009. The Russian market plummeted by 50 per cent.
On the outlook for the current fiscal, Goenka said Indian manufacturers are concerned about the withdrawal of the scrappage incentive scheme in the Europe.
"However, GDP of those countries is growing and a natural growth is happening. So, an overall macro-economic growth is likely to compensate the demand generated by the scrappage incentives," he added.
SIAM has also requested the Indian government to give impetus to overseas sales by various measures such as expanding the list of focus markets, which give duty benefits.
Exports growth in the last financial year was good also in the two-wheeler category, which registered 13.54 per cent rise at 1,140,184 units against 1,004,174 units in the previous financial year.
The surge in two-wheeler exports was led by Bajaj Auto and Hero Honda with their motorcycle sales.
Bajaj Auto's overseas two-wheeler sales rose by 14.64 per cent to 726,189 units from 6,33,463 units in 2008-09.
Domestic market leader Hero Honda saw its bike exports increase by 20.33 per cent at 97,699 units against 81,193 units in the previous fiscal, SIAM said.
TVS Motor Company, however, registered a fall of 14.44 per cent at 165,414 units against 193,320 units in FY09.
Three-wheeler exports rose by 17.03 per cent to 173,282 units from 1,48,066 units in the previous fiscal, SIAM said.