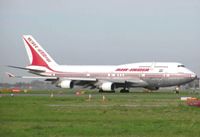 Days after Gustav Baldauf was appointed Air India's chief operating officer, a major airline union has demanded withdrawal of the decision and appointment of an Indian to the post.
The All India Cabin Crew Association, claiming to represent 2,500 cabin crew of Air India, said: "While we bear Capt Gustav Baldauf no ill-will at all, it is tragic that the airline that was built by one of the world's legendary aviators, Bharat Ratna J R D Tata, must today be saved by a foreigner, whose only link to India seems to be Jet Airways."
Prior to taking up the job, Baldauf served as the executive vice-president (flight operations) of Austrian Airlines and earlier as Vice President in Jet Airways.
In a letter to Prime Minister Manmohan Singh, AICCA general secretary Sanjay Lazar pointed out that Baldauf had once served under a former Air India vice president operations while in Jet and asked 'why should we look for foreigners to run our national airline".
"If this decision is permitted to go through, it will be the first and only PSU or government company headed by a foreigner and will be a travesty to the great talent our own nation possesses.
"Air India is an instrumentality of the state and is an Article 12 company -- thus the enduring need for homegrown leadership is essential," the AICCA leader said.
He sought the prime minister's intervention in the matter and demanded 'a CBI probe into the decisions taken in Air India and Indian Airlines between 2004 and 2009' which, it claimed, led to the national carrier facing a severe financial crunch.
In the letter, Lazar said despite a Parliamentary Standing Committee and the Committee on Public Undertakings pointing towards several 'wrong decisions', no action was taken to resolve the problems for which employees were not responsible.
What 'continues to astound us employees' was that when so much has gone wrong, no organisation, agency or government department has 'bothered to look into the reasons why Air India entered this terminal decline from 2004 onwards, who is responsible for these wrong decisions and punishing the guilty,' the letter said.
Accusing the Management for 'duplicity', it claimed that besides 'callous' government policies, there was a 'deliberate design to kill our carrier so it could be swallowed up by some cash rich private airline in a friendly takeover'.
The letter, written on April 7, said till that date 'no employee of Air India has yet got their salary for March, and my cabin crew are yet to get the flight allowances for February -- yet we are considering the appointment of an expatriate at a record salary'.
© Copyright 2021 PTI. All rights reserved. Republication or redistribution of PTI content, including by framing or similar means, is expressly prohibited without the prior written consent.