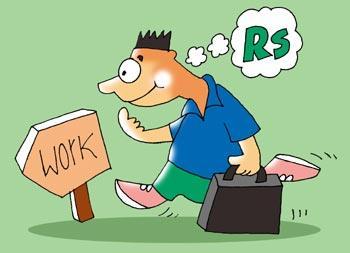 A windfall awaits those looking for lucrative employment avenues with just four sectors -- IT, telecom, banking and healthcare -- expected to generate over 500,000 jobs by March next year, experts said.
According to experts at various global consulting firms, financial year 2010-11 comes with huge job opportunities across sectors and different hierarchical levels in companies.
"Banking, telecom, IT are the top three sectors where hiring intensity and volumes are significant. The overall hiring for IT & ITes sector is expected to be 150,000 professionals for fiscal 2011," Kelly Services' managing director Kamal Karanth told PTI.
Both, global consultancy Ernst & Young and workforce solutions provider Kelly Services, expect telecom sector to generate over 100,000 jobs this fiscal.
Kelly Services expects healthcare and banking sectors to provide around 250,000 and 40,000 jobs, respectively in FY-11.
"Some other sectors that are likely to lead hiring in 2010 include pharma, FMCG and education as these sectors are facing a talent crunch at present," E&Y partner and national head (people & organisation) N S Rajan said.
The experts believe that hiring would be also be robust across sectors such as real estate, retail trade sector and manufacturing among others.
"Overall hiring is likely to remain bullish with positive business outlook for most companies. In manufacturing sector including the auto and auto ancillary sectors, around 25 lakh (2.5 million) jobs are likely to be created," staffing firm TeamLease VP Rajesh AR said.
Another HR services provider Kenexa's director (India RPO) Ray Pereira said, "We see a lot of hiring happening in sectors like healthcare, hospitality & travel and real estate. Considerable hiring is also seen in manufacturing, education and consultancy services."
According to Kelly Services, job seekers in the services, public administration, education, mining and construction, finance, insurance, real estate and the wholesale and retail trade sector, could look forward to the most favourable hiring environment in current fiscal.