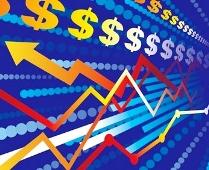 The Asian Development Bank said on Monday India is poised for an economic growth of 8.2 per cent in 2010 although rising inflation would remain a concern.
Noting that India's rebound from the global crisis is set to accelerate this year, the bank said the stimulus measures taken by the government would be gradually rolled back as the economy sets itself on the high growth path.
"India's rebound from the global crisis is set to accelerate in 2010, with estimated growth of 8.2 per cent, although rising price pressures present a challenge to policy makers as they steer the economy's recovery," ADB said in its report 'The Asian Development Outlook 2010'.
The report said even though overseas demand will take some more time to revive, robust domestic consumption and rising investment would place the economy firmly on the growth trajectory.
"Expansionary fiscal and monetary policies are now being wound back gradually as the rebound gains traction. While trade flows have yet to return to pre-crisis levels, rising private consumption and investments are likely to underpin growth over the next two years," it said.
After clocking an impressive 9 per cent growth for the previous three fiscals till 2007-08, India's gross domestic product grew by a relatively modest 6.7 per cent in 2008-09.
The multilateral lending agency said prompt fiscal and monetary stimulus measures, improved overseas demand and increased capital inflow would help the Indian economy grow at the government-estimated 7.2 per cent in 2009.
It expects the economy to expand by 8.7 per cent in 2011.
The report, further noted that the positive developments could be offset by signs of increasing inflation following a poor summer monsoon and floods, as well as expectations of further increase in fuel prices this year and the next.
"The outlook is for a return to high growth, although this will require continued apt handling of macroeconomic policies, and to sustain long-term growth it will be essential to address infrastructure bottlenecks and to reform agriculture," ADB chief economist Jong-Wha Lee said.
Weak agriculture sector and infrastructure bottlenecks remain as obstacles to longer-term growth. ADB expects the 2010 annual inflation to be at five per cent and rise further to 5.5 per cent in 2011.
"Too slow a removal of the fiscal and monetary stimulus support may lead to a quick uptake of inflation, while too rapid a removal may derail the recovery," Lee said.
Moving forward, India will have to resort to a range of measures like boosting farmgate prices and addressing distribution and streamlining subsidies to counter the trend of rising food prices and strengthen agricultural output, the study noted.
"More government spending on infrastructure is also needed, which may require a tightening of subsidies as part of fiscal consolidation, as well as more public-private investment partnerships," it said.
The lending agency further added that the economies in the Asia-Pacific region are recovering strongly from last year's slowdown. Developing Asia, a group of 45 economies, including India, China and Singapore, was set to grow at 7.5 per cent in 2010 and 7.3 per cent in 2011, higher from 5.2 per cent in 2009.