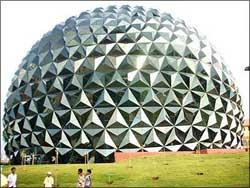 Infosys announced on Wednesday that it would manage internal IT services for Microsoft worldwide.
As part of this three-year managed services agreement, Infosys would streamline implementation processes, simplify support and service, while at the same time lowering the enterprise costs through the use of the latest Microsoft solutions such as Windows 7, the Bangalore-headquartered company said in a statement.
Infosys would provide Microsoft with IT help desk, desk-side services and infrastructure and application support from multiple global centers. Infosys would manage Microsoft's internal IT services for applications, devices, and databases in 450 locations across 104 countries.
"Infosys will establish a dedicated Service Excellence Office to help Microsoft implement ISO 20000 and ITSM processes," the statement said.
"This agreement provides Infosys with a unique opportunity to partner with Microsoft IT and gain deep and early expertise in the implementation and management of the latest Microsoft technologies, and thus enhancing Infosys capabilities to help other customers leverage Microsoft's innovation and adopt these technologies," it said.
Infosys has partnered with Unisys to provide global desk-side support and service desk based on their strong capabilities, commitment to innovation and customer service.
Unisys' multi-language service desk integrated with desk side support would enable enhanced end-user productivity, it was stated.
Sanjay Jalona, vice president and head, manufacturing, North America, Infosys, said Infosys would deliver this engagement in an outcome based pricing model, enabling Microsoft to associate and manage IT costs directly to business variables and demand."
Anand Nataraj, vice president and unit head, infrastructure management services, said the agreement with Microsoft based on a unified IT service management roadmap would result in moving towards a service oriented organisation along with improvement in quality of existing and new services.
"Infosys demonstrated that it understood our transformational goals by introducing a flexible and innovative end-to-end approach to manage our support infrastructure," said Jim DuBois, general manager of service management, Microsoft Corporation.
"The fully integrated solution developed by Infosys, combined with process compliance, a robust tool platform and the creation of a service excellence office will help us enhance how we deliver end-user computing services to our internal employees and partners while leveraging the innovation and investments we make in developing new technologies," he said.