I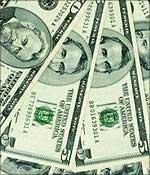 ndia slashed its holdings of American debt by a little over $1 billion in February while China, which is locked in a currency row with the US, trimmed the holdings by $11.5 billion during the same period.
According to the US treasury department, India has slashed its holdings to $31.6 billion in February, while it was at $32.7 billion in January.
China, which is also the largest holder of US Treasury bonds, has cut its holdings to $877.5 billion in February, one of the lowest levels in nearly nine months.
In January, China's holdings stood at $889 billion.
Both the US and China are locked in a row over the issue of revaluation of Chinese currency yuan.
In recent months, American authorities have been stepping up pressure on the latter to revalue yuan.
Going by official statistics, China has been trimming its holdings continuously since October last year, when the same was at $938.3 billion.
Meanwhile, India's holdings have come down by more than $10 billion since June last year.
At that time, India held Treasury bonds worth $42.2 billion.
As per the Treasury data, Japan held bonds worth $768.5 billion, making it the second largest holder of American debt after China.
Among the BRIC (Brazil, Russia, India and China) nations, the second largest holder of American debt is Brazil, followed by Russia and India.
As in February, Brazil held Treasury bonds to the tune of $170.8 billion, while Russia held American debt worth $120.2 billion.
The US economy grew 5.6 per cent in the last three months of 2009, shrugging off the adverse impact of the financial meltdown.