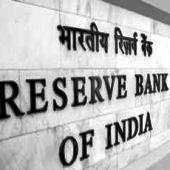 The Reserve Bank of India is likely to squeeze money supply and make borrowings costlier further in its monetary policy on Tuesday to tame inflation which has come close to ten per cent, say bankers.
The apex bank, however, may not aggressively tighten the monetary policy and is likely to resort to only a moderate 0.25 per cent hike in short-term borrowing rates and mandatory bank deposits with RBI, bankers said.
According to them, moderate tightening should suffice because inflation is expected to ease after the rabi (winter) crop, including wheat, sugar, potatoes and pulses, reaches themarket, around mid-May.
Much hawkish stance on monetary tightening may hamperthe economic recovery, they said.
"My sense is that a quarter per cent of increase in both cash reserve ratio, repo and reverse repo rates is the right thing for RBI to give confidence and comfort to the market and to avoid any knee-jerk reactions," Yes Bank managing director and CEO Rana Kapoor told PTI.
Repo and reverse repo are the key short-term rates, while CRR is the money that every bank has to mandatorily keep withthe central bank.
Also, industry sources said that banks are not likely toraise lending rates, at least immediately, even if RBI hikes rates by a quarter per cent as liquidity is sufficient in the near term.
"The RBI is likely to hike the rates by anywhere between 0.25-0.50 per cent as the inflation situation warrantsmonetary action," Oriental Bank of Commerce's chairman and managing director T Y Prabhu said.
The apex bank began unwinding its monetary stimulus byupping the CRR (banks' portion of deposits with the RBI for zero interest) by 0.75 per cent in January and policy rates by 0.25 per cent in March to cool down inflation.
State Bank's chief financial officer S S Ranjan was of the view that hike in RBI action is certain given the currentinflation conditions and signs of the economic recovery.
"I expect that CRR will be hiked by 0.25 per cent as the focus of the central bank now is to bring down inflation."
He, however, was of the view that the Reserve Bank is unlikely to hike the policy rates (repo and reverse repo) immediately as it has done that already just last month.
Another hike in key policy rates in a short span of timeis unlikely to happen, Rajan said.
A similar view was expressed by Kolkata-based Uco Bank's chairman, S K Goel, who said that in all likelihood the RBI may hike its repo, reverse repo rates by 0.25-0.5 per cent in the policy.
On Friday, government's chief economic adviser Kaushik Basu had said that high inflation in the domestic economy -- still recovering from the ill-effects of global financialcrisis -- is a concern and warrants policy action.
Wholesale price inflation rose to 9.9 per cent in March with food inflation hovering over 17 per cent and is slowly spreading to manufactured products, prompting economists to predict that RBI policy rate tightening is certain.
Consumer price inflation, that affects the common man more, is running at much higher level than WPI.
With economy slowly starting to come out of the effects of global financial downturn with industrial production expanding by more than 15 per cent in three consecutive month still Feburary 2009, inflation is expected to increase further.
As such, bankers expect RBI to moderately raise its key rates to cool down inflation.