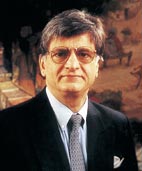 Britain's Indian-origin businessman Sir Gulam Noon, 74, who is also known as curry king, has been appointed an assistant treasurer of the Labour party.
Mumbai-born Noon has donated 200,000 pounds and raised another 250,000 pounds from other Muslim businessmen since taking up the post a month ago.
"I have decided to help the Labour party wholeheartedly and I would like all to come to the aid of theparty at this critical juncture," Noon told PTI.
Noon said he was approached last month by Ray Collins,Labour's general secretary, and asked to take up the new role.
"I have always been a Labour supporter and wanted to ensure that Gordon Brown was given an opportunity to finishoff the job that we started under Tony Blair so I accepted Ray's invitation," he said.
He decided to give up his favourable non-domicile tax status -- to which he was entitled because he was born in India -- so that he could join the campaignwithout causing embarrassment to the party.
"This country has been very good to me. I am no longer a non-dom so I can take up a fuller role in its political and commercial life," he said.
He is one of four people who sit on Labour's board of assistant treasurers which was established last September to raise funds for the party.
The other members are Jack Dromey, the party's lay treasurer, Nigel Doughty, founder of an equity firm, and Dave Prentis, Unison's general secretary.
Sir Noon said he has raised the money from 10 Muslim businessmen, and is planning to raise another 50,000 pounds bythe end of the month.
Quoting labour insiders, The Guardian said on Sunday that the party is still 'quite a few million' short of the 18million pounds maximum that can be spent on the general election campaign.
The Tories are understood to have raised more than they can spend.
Noon has given nearly 700,000 pounds to Labour over the last 10 years but has not given a donation of more than 5,000 pounds since the last election.
He was questioned under caution by police in 2005 as part of Scotland Yard's investigation into the alleged sale of honours in exchange for loans towards Labour's last generalelection campaign.
It emerged that he had secretly lent 250,000 pounds to Labour weeks before he was nominated by Tony Blair for apeerage.
At the time he maintained that he was told by asenior Labour official not to declare the donation on a form submitted to the House of Lords authorities and wassubsequently cleared of any wrongdoing.
Sir Noon said he has since discussed the so-called 'cash-for honours' affair with Tony Blair and Gordon Brown, and said that both had regretted the way his name had been dragged into the inquiry.
"The last prime minister and the present prime minister have both said to me that I was not treated well during the cash for honours affair.
But I did not blame anyone and I kept my counsel," he said.
Image: Sir Gulam Noon
© Copyright 2021 PTI. All rights reserved. Republication or redistribution of PTI content, including by framing or similar means, is expressly prohibited without the prior written consent.