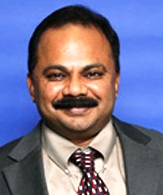 Jaishankar Ganesh, 45, a noted business education innovator and scholar in internationalmarketing, has been named as the dean of the Rutgers School of Business-Camden, becoming the first Indian-American to get the coveted post.
Ganesh will serve as the fourth dean of the Rutgers-Camden business school from August 1, the State University of New Jersey said.
As dean, Ganesh will develop the academic and administrativeoperations of the Rutgers-Camden business school, which has679 undergraduate and 276 MBA students attending classes on the Camden Campus and in Atlantic City and Mount Laurel.
When the appointment becomes effective on August 1,Ganesh will become Rutgers' first full and permanent dean ofAsian Indian descent, the statement said.
Established in 1988, the school has 35 full-time facultyand 20 staff members and is the first business school in southern New Jersey to earn international accreditation.
Ganesh currently serves as associate dean foradministration and executive education at the University of Central Florida's College of Business Administration.
In this position, he worked to revamp the Executive Development Centre's programmes, resulting in increasedenrolment and a surge in revenue from $300,000 to more than $3.5 million during a five-year period.
Image: Jaishankar Ganesh